Hey Beautiful! This site is reader-supported and we earn commissions if you purchase products from retailers after clicking on a link from our site.
What kind of brush do I use for contour?  You may know that contouring refers to a makeup technique where both light and dark shades are used together to help sculpt, refine one's facial structure, and enhance your overall appearance.  But do you know what brush to use to contour so you can achieve these impressive results at home?  Hopefully you will after reading this article.  We're going to go through the various steps in applying contour to your face and which brush you'll want to use for each step.
How to Contour and What Brush to Use
What do you use to apply contour?  There are actually a few different steps to follow when contouring your face.  For optimal results, you'll want to use a different brush for each step.  The shape and density of the specific types of brushes we'll share below will help you achieve the look you're after.
Ok, now let's take a look at the steps for contouring and share some of our favorite makeup brushes for each step.
1. Begin with a Base Highlight
Before thinking about what brush do you use to contour your face, you need to make sure that you have already applied your base foundation and concealer.  Once your foundation is on, you will want to reach for the tapered highlighter contour brush.  Use this brush to apply a foundation (perhaps a foundation for textured skin) that is a shade lighter than your base color.  You can also choose a cream or liquid highlight for this step.
Use the tapered highlighter contour brush to apply the foundation or highlight to the areas under your eyes and on the central "v" on your forehead.  Begin by dipping the brush in water, removing the excess liquid, and then using just a small amount of the foundation.  Work slowly and use even strokes.
2. Precision Highlighting with Contour
Now that the base highlight is done, it is time for the precision highlighting and contouring.  For this step, you'll be applying highlighter or powder to the bridge of your nose and along your upper brow bone along the top of your forehead.
So, what brush to use for nose contour and along the brow bone?  The precision angled contour brush is the best choice for this step.  It will help guide you through applying the lighter highlighter color first, and then the darker shade next.
After both the lighter and darker shades have been applied to your nose area and upper brow, it will be time to blend the two shades together.  If you're wondering what brush do you use to blend contour for this step, you can just stick with using the precision angled contour brush.  Work using small circles to help blend the edges of your nose and upper brow area.
3. Jawline and Cheek Sculpting
Now, we're moving onto the jawline and sculpting the cheeks.  Many ask, "what brush to use for powder contour" or "what brush to use for cream contour?"  You can use the flat contour brush with both cream or powder, as well as liquid.  
If you're working with a liquid or cream contour product, gently brush through a small amount of the product using the flat brush.  Then, work with the brush at an angle, and move it along your natural cheekbones and jawline.  Start at the inside of your face and move the brush in longer motions towards the outside of the face.
If you're using a powder, dip the brush into the powder.  Then, tap the brush to remove the excess powder.  Work following the same steps described above, starting at the inside of your face and working towards the outside.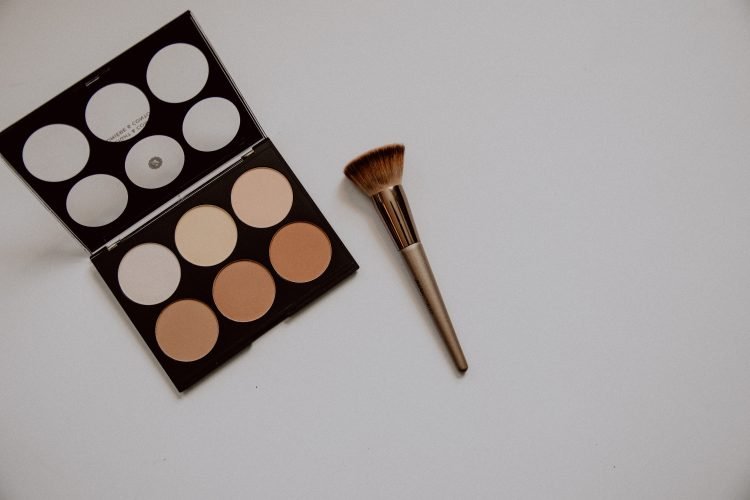 4. Blush
Reach for your favorite blush or blush palette next.  You'll want to use the round angled contour brush to apply your blush, beginning right above your cheekbones.  Work with the brush at an angle and move it quickly, but in short strokes, along your cheekbone between the upper portion of your ear and the corner of your mouth.
5. Finishing Touches
We're just about finished!  All that is left is to use the fan contour brush to help achieve a more natural-looking finish, if desired.  Dip the brush in your powder, gentle swirl or tap off any excess powder, and hold the brush along your cheeks at a 45-degree angle.  Move the brush along that same cheekbone line where you applied your brush, using long strokes.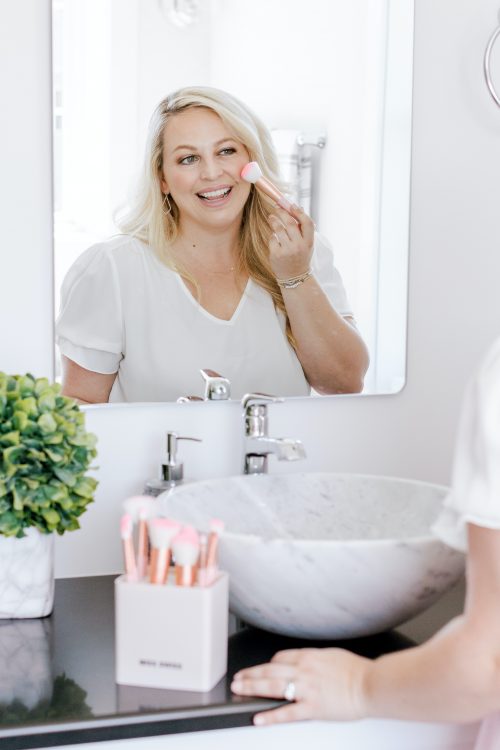 Our Favorite Contour Brushes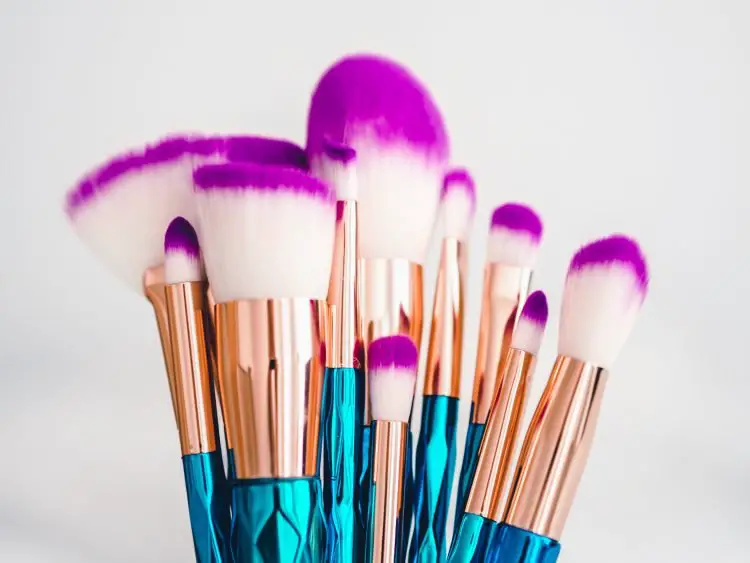 FAQs
Should I use a brush or sponge for contour?
You can use either a brush or a sponge to contour.  Either can work well to blend.  Though, many prefer a brush for liquid makeup and a soft sponge for contour powder.
Where do you use a contour brush?
Because there are a few different contour brushes, the exact use of each will be a bit different.  For example, the tapered highlighter contour brush is used under the eyes and on the inner section of the forehead, while the flat contour brush is used along the jawline.
What is a flat contour brush used for?
A flat contour brush is used to apply foundation along the jawline to achieve a sculpted and pristine appearance.
Closing Thoughts: What Brush to Use to Contour
That was a lot of information to read through, but hopefully you feel ready to enhance your natural beauty by contouring your face.  Choosing the right makeup brush for each step of the process is essential to achieve the results you're after.  Add some of our top picks to your shopping cart today, so you can try them out soon!