Hey Beautiful! This site is reader-supported and we earn commissions if you purchase products from retailers after clicking on a link from our site.
There is nothing more convenient in the summer than a self-tan to get you body confident before the real tanning kicks in. That golden glow reflecting on the poolside is enough to make us all excited for winter to be over.
Whilst we all love to feel bronzed next to the pool, the main difference between a real tan and a self-tan is the durability. Although most of us use a fake tan to help us feel confident in a bikini, that bikini means the fake tan is going to have to hit the water.
A common fear amongst anyone who self-tans is whether or not that tan is going to disappear before it is time to get back out of the water.
Well, today I am going to tell you how to best preserve your self-tan if you are going to spend lots of time in the water and the best self-tans to use for this! So, for that gorgeous summer glow without the need of a sun, look no further!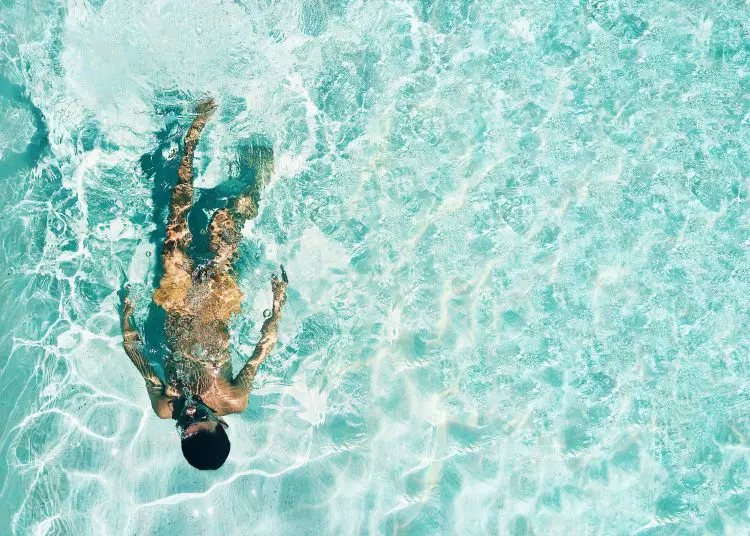 Does self tanner come off when you swim?
In most instances, a fake tan is designed to last in water. However, this all depends on the application process and the tan being used alongside the amount of time being spent swimming.
One your tan has developed fully, there is no reason for it to fade any quicker than it would in a shower or bath. If you enter the water immediately after application, you will risk washing it all off.
Allow the time for the tan to develop before you go swimming . Make sure you rinse it off in the shower before entering any public pool too. Otherwise, you may risk being surrounded by a cloud of fake tan!
Allow yourself a few hours for the tan to develop. This allows it to fully develop and settle on the skin without having any excess.
Do the chemicals in a pool remove self-tan?
Many people believe that the chemicals in swimming pools will remove the tan. However this is not the case if the tan has settled in properly. The key really is to be patient with the developmental stage. 
Not only will allowing the correct amount of time help protect your tan from coming off entirely, but it will also help prevent it from streaking. To be extra safe, you should apply the tan a couple of days before swimming. This will allow it to not only settle, but allows time for a couple of showers to wash off any excess and even out the tan beforehand. 
The chlorine in a pool should not be strong enough to bleach your tan. Whilst it my dry out your skin and thus may cause your tan to come off more easily, the chlorine itself should not impact your self-tan. 
It is not only the chemicals in the water, but is also the water itself. Like jumping under the shower as soon as you have applied tan would remove it, so would any other water, whether it be pool water or the sea.
Does swimming make your fake tan come off?
Swimming itself will have no impact on the tan. Spending a lot of time in water will eventually encourage the tan to fade, but the action of swimming will make no difference to the tan.
Just as you can walk and run and go to the gym with fake tan, you can also swim. In fact, swimming has a lot less friction than other sports and so the risk of the tan rubbing off from this is even less of an issue when it comes to swimming. 
How to Preserve Your Fake Tan
Although many steps above will help you to understand how to stop your fake tan coming off in the pool, there are a couple of things you can do to help it even further.
So, as mentioned, ensure you allow enough time for your tan to develop and give it a couple of rinses before entering into the pool. This will mean it has settled and developed evenly and also will not create a cloud of orange around you as soon as you step in the pool.
When coming out of the pool, or the ocean, it is best to rinse off under fresh water. This will remove any sea salt or chlorine, depending on the type of pool. It will also prevent your skin from drying out so easily.
This is a good step to do with or without tan, as it helps keep your skin hydrated. Dehydrated skin will peel more easily which will cause you to begin to lose your tan.
Further to this, you can make sure that your skin is moisturized after swimming, but particularly if you are then lying in the sun. Protecting your skin will help preserve the self-tan for longer. Using sunscreen will help with this, and then moisturizing and the end of a day of swimming will also help keep the tan fresh and even. 
Finally, you can make sure that you are using a waterproof self-tan. Most of them are waterproof, but buying one specific for what you are doing will also help you to keep your glow for as long as possible!
Which fake tan is best for swimming?
There are a number of fake tans out there and they all vary a lot in not only their appearance but also their durability and purpose.
If you are going for a spray tan, you can make sure it is a waterproof spray tan beforehand by speaking to the salon.
If you are applying your own self-tan, here are three that I would recommend if you plan to swim.
St. Tropez is one of the most classic, iconic brands for self tan. This mousse applies evenly without any smell.
They suggest it lasts up to ten days without streaks, but swimming may slightly reduce this. It is quick application and quick drying, so very easy to use.
They recommend washing it off after 4 to 8 hours which will allow it to settle. Once you have done this you will be ready to swim!
Bondi Sands are another reliable brand when it comes to self-tanning. Designed specifically for the Australian surfer glow, it is ideal for using before entering the water.
It has a delicious coconut scent and is super easy to apply. Not only is it simple to use, but this is one of their longest lasting tans, lasting for around a week before you will notice fading.
It is non-transferable and so there is no risk of staining your clothing and towels which is an added bonus. 
Finally, all of their products are cruelty free and so overall Bondi Sands have a really great product here.
Finally, we have the leading company for tanning oils. Hawaiian Tropic produces a number of tan-based products, whether it be fake tan or tan enhancer when you are trying to catch those rays.
I have used Hawaiian Tropic for years and have never been disappointed.  It comes in a number of tones ideal for whatever level of glow you are looking for.
Again, it is a foam and so it is easy and even to apply. It hydrates your skin as you use it and has a lovely tropical smell to it, as do all of their products. 
Similarly, this product is also cruelty free and easily accessible in most drug stores.
Does Self Tanner Come Off in Water – Final Thoughts
Overall, most tans out there will not come off due to swimming alone.
If you allow the correct amount of time for application and development, swimming itself will not impact the self-tan. Whilst chlorine and salt will both dry out your skin, and this may cause the tan to fade quicker than normal, salt and chlorine themself do not impact the tan.
You can help preserve your tan by keeping your skin hydrated and using a tan specifically designed for the activities you will be doing.
The key to keeping a strong self-tan whilst on vacation is to have patience and stay hydrated! Follow these simple steps and you will be glowing for days!
Related posts on the blog:
FAQs
How long do self tanners last?
This depends on the tan, but most self-tanners will last anywhere from a week to ten days.
Are self tanners waterproof?
Most will be designed to be waterproof but it is always useful to double check this if you plan on spending a lot of time in the water.
How soon can I swim after self-tanner?
It is best to allow your tan to fully develop. This can take anywhere from 4 to 8 hours, but for best results you should apply the tan a day or two before swimming and wash it off beforehand too.
Can you swim with self-tann

er?
Yes, you can swim with self-tanner so long as it has fully developed.
Does fake tan come off in cold water?
Fake tan will eventually come off in any water. But it should stay resistant for at least a few days if you have applied it correctly. The temperature of the water will not have an impact on this.
Does self-tanner come off when you sweat?
Self tan will begin to come off if you are sweating and causing friction. Just as self-tan is removed over time from water and scrubbing, sweating will have the same effect but it will not instantly remove your tan, it may cause some streaks though.