Hey Beautiful! This site is reader-supported and we earn commissions if you purchase products from retailers after clicking on a link from our site.
Wearing bras comes second nature to most women, but getting the sizing and style right sometimes eludes us. That's when you start getting boobs falling out from the sides and fronts of your bra. Or maybe you have discovered that the cute bra you picked up the other day is causing your boobs to bubble out under your armpits. Either way, these incidents are not cute, and it could even lead to stiff shoulders and back muscles.
But there's some good news about bra spillage: you can correct the issue with a few minor adjustments.
Table of Contents
What is Bra Spillage?
If you are someone blessed with a larger chest, you probably have experienced the horror of an ill-fitting bra. The muffin top created by boobs falling out of a bra can ruin even the best outfit by causing tops and blouses to lay in an unflattering fashion.
When your breast tissue spills out from your bra in such a way, we call that "bra spillage" or "bra overflow."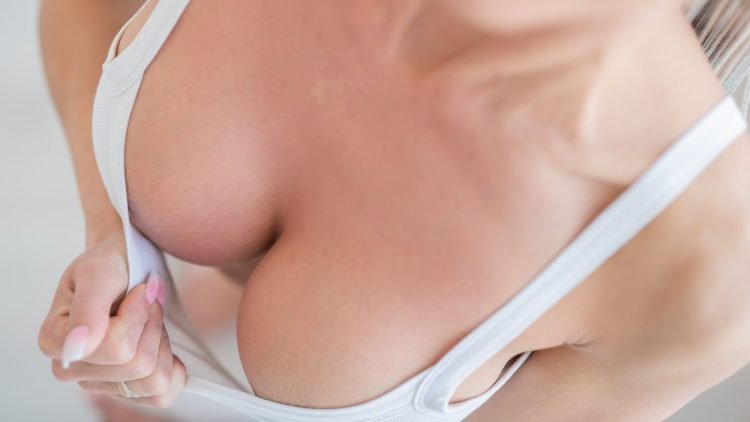 4 Causes of Boobs Falling Out
Turns out, there is more than one reason your boobs are falling out of your bra. Knowing why you are getting bra spillage will help you figure out a way to prevent it. Here are the four common causes of bra overflow:
Cup Sizing
Band Size
Breast Shape
Asymmetrical Breasts
1. Cup sizing
if you are wearing a cup that is too small for your breasts, the material won't cover the whole boob correctly. The amount of coverage depends on the style of bra and how big of a cup you need. Unsure about cup sizes? See my article covering every bra cup size from smallest to largest cup.
2. Band size
when the band of the bra is too tight, the cups stretch too far apart. This will cause the inner edges of the cups to spill open while the outer edges of the cups cut into your skin.
3. Breast shape
boobs come in all shapes and sizes, meaning that some bra styles are not going to be supportive enough for you. We'll introduce some different breast shapes and which bras are right for you later on in this article.
4. Asymmetrical breasts
it's not unusual to have one boob that is larger than the other. Though the size variances differ between one person and the next, you need to properly size your bra to make the uneven boobs less noticeable. In order to do that, you need to size the bra to the larger boob, not the smaller one. If you end up having a large gap around the smaller breast, you can fill the space with padding or an insert.
How Do I Know if My Bra is Too Small?
In the US, the average breast size is rising, but it's believed that this is due to more and more women discovering their correct bra size. Unfortunately, that still leaves a lot of ladies out there are wearing the wrong bra size. But if so many women are confused about their bra size, how do you know when your bra is so small? Some of the tell-tale signs can be disregarded, but there is one that you cannot overlook—bra spillage.
Daily wardrobe malfunctions from boobs falling out are a surefire sign that your bra is the wrong size.
Here are some other instances that tell you that your bra size is too small:
The band is crooked
The top edge of the cup does not align with the top of your breast
You need to fasten the brand with the smallest hook
Straps fall of your shoulders or dig in too tightly
You have pain – lots of pain!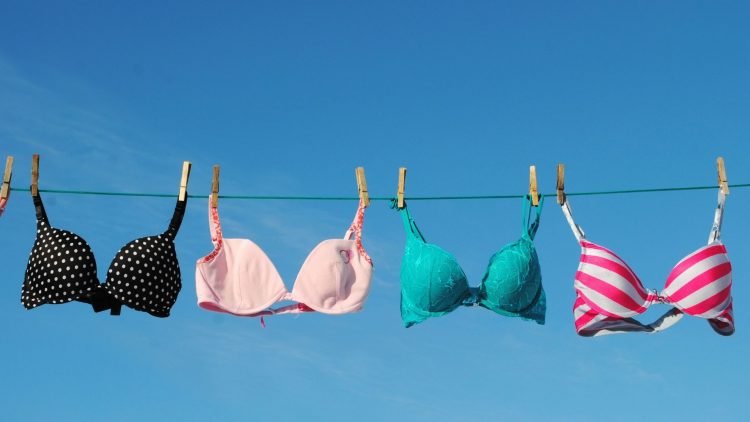 The band is crooked
A well-fitted bra band is not going to ride up your back. It should be horizontal around the entire torso.
The top edge of the cup does not align with the top of your breast.
There should be no gaps between the bra material and your boob. Similarly, the bra cups shouldn't be so tight that they are squeezing the flesh of your breasts and creating a visible bulge.
You need to fasten the band with the smallest hook.
Yes, the multiple closures do mean that you can adjust to your needs. Yet, wearing every bra on the slimmest hook might mean that you need a smaller band size.
Straps fall off your shoulders or dig in too tightly.
Any strap issues pinpoints to ill-fitting bras. The best fit means that the straps aren't digging in and leaving indentations or markings, and you shouldn't have to constantly fight to keep the straps up either. The tension on the straps should be comfortable and supportive enough to keep the cups in place. Keep in mind that elastic does stretch over time, so you should replace any older bras with straps that no longer fit correctly.
You have pain—lots of pain.
It should be obvious, but many people will overlook their back pain or pinching as the fault of their posture or their body type. No, the pain has nothing to do with that. Odd pressure around the breasts or in the chest, particularly with underwire, means that you need to try a new size.
All those problems may have you wondering why women even wear bras in the first place – trust me, there's good health and wellness reasons – if you want to know more take a look at my article on the reasons why women should wear bras.
How to Measure Your Cup Size
Knowing your bra size is essential for two reasons. First, your breasts stay healthier. Second, wearing a properly sized bra is going to prevent your boobs from falling out. Keep in mind that you should routinely check on your breast size, since it can change. Chances are any bra size reading you took 6 months ago is different now.
To measure your cup size, you need a tape measure. Make sure it's flexible enough to wrap around your chest comfortably.
Take your tape measure and measure around the fullest part of your bust. This will be different depending on the shape of your breasts. Write down your measurement in inches or centimeters.
The second step is to measure the band size. You should be topless to take this measurement, because you want to be as accurate as possible. Wrap the tape measure under the bust and make sure you can stick a finger in under it. Round up to the nearest whole number. That's your band size.
Subtract the difference of the band measurement from the bust measurement. For example, if you measured 80 cm (32 in) for your band and 92 cm (36 in) for your bust, that means your band size is 70/32 and your cup size is A.
| Band Measurement | Bust Measurement | Bust-Band Difference | Band and Cup Size |
| --- | --- | --- | --- |
| 26-28 in (68-72 cm) | 30-33 in (78-84 cm) | 3-4 in (10-12 cm) | 32/70 A |
| 28-30 in (73-77 cm) | 33-35 in (86-91 cm) | 5-6 in (13-14 cm) | 34/75 B |
| 30-32 in (78-82 cm) | 36-39 in (93-99 cm) | 6-7 in (15-17 cm) | 36/80 C |
| 32-34 in (83-87 cm) | 39-42 in (101-106 cm) | 7-7.5 in (18-19 cm) | 38/85 D |
| 34-36 in (88-92 cm) | 42.5-44 in (108-114 cm) | 7.8-8.5 in (20-22 cm) | 40/90 E (DD/DDD) |
| 36-38 in (93-97 cm) | 45-47.6 in (116-121 cm) | 9-9.5 in (23-24 cm) | 42/95 F (G/H) |
Bra Sizing Chart
The most influential determining factor of your cup size is the bust-band difference. If the bust-band difference is less than 1 inch, your cup size is AA.
If this all sounds a bit complicated and you don't feel up for doing mathematics, you can always use a nifty bra size calculator.
There is also this fabulous tutorial on how to measure bra size that will walk you through the process and answer any questions you might have. Check it out:
The 11 Different Shapes of Breasts
Bodies are all unique in some way; boobs are like that, too. Sometimes, the best way to solve the boobs falling out issue is to find bras that are most supportive for your breast shape. There are 11 common boob shapes:
Asymmetrical
Athletic
Bell-Shaped
Close-Set
Conical
East-West
Relaxed
Round
Side / Wide Set
Slender
Teardrop
See if yours fit any of these descriptions:
Asymmetrical Breasts
Everyone with breasts will notice that one boob is larger than the other, but some people have a more pronounced size difference. If you have one breast that is much larger than the other, size your bra according to the bigger one.
Athletic Breasts
Muscular chest with less breast tissue. Petite breasts look best in demi cups and plunge bras.
Bell-Shaped Breasts
Slimmer at the top and fuller at the bottom, this is most common with women who need bigger cup sizes. Women with bell-shaped boobs should wear full coverage bras or T-shirt bras for the best support and lift.
Close-Set Breasts
Narrow or no gap between the breasts, leaving a wider space between the breasts and underarms. Close-set breasts benefit from plunge bras.
Conical Breasts
Smaller boobs may look cone-shaped. These boobs look good in most bras, but T-shirt bras and molded bras will add more comfort while giving a more rounded shape. Balconette bras work well, too.
East-West Breasts
The nipples of East-West bras look away from one another. Women with this type of breast find it hard to create cleavage with any kind of bra, leading to poor sizing and bra spillage. It's best to use a full coverage bra, since you get more support with the added push up.
Relaxed Breasts
Nipples are pointed downward, and the tissue is loose. A balconette with some added lift will give these breasts a much perkier look.
Round Breasts
Since these breasts look full and round, most bras pair wonderfully with them. However, avoid padded bras, since you'll get spillage. Use a wireless bra or a balconette instead.
Side/Wide Set Breasts
The opposite of close-set breasts, these have a wide space between each breast. Athletic women with wide, muscular backs often have this breast shape. Push up and plunge bras are recommended, since the cups will push the breasts inward, creating a more rounded shape.
Slender Breasts
Long, narrow, and with downward pointed breasts, these are like bell-shaped breasts but thinner. Try a demi bra.
Teardrop Breasts
You most often see this shape of breast in women who have breastfed or who have experienced significant weight loss. Teardrop is a rounded breast that is slightly more narrow at the top. You'll need to bring some fullness to the top, so try a demi bra.
Still unsure about which breast shape you might be? Need a visual? Check out the video below for more details:
5 Ways to Prevent Boobs Falling Out
Maidenform Two-Hook Bra Extenders
Hanes Comfort Evolution Bra
Glamorise MagicLift Minimizer Bra
Calvin Klein Womens Constant Convertible Demi Bra
Wingslove Women's Push Up Plunge Underwire Bra
Now that you know a bit more about finding an appropriately sized bra and which one will flatter your breasts the most, let's look at some options for preventing bra overflow. We looked at bras—full coverage, balconettes, demi bras—as well as some accessories, and found highly rated products for you to try.
1. Maidenform Two-Hook Bra Extenders
When the band is too tight around your torso, it causes the cups and band to squeeze against your breasts, pushing them out. You might have a few bras where the cups fit perfectly, but you're in-between sizes or the band simply needs an adjustment. In that case, the best option is the two-hook bra extenders by Maidenform. They'll make a slightly tight band more comfortable and prevent dreaded bra spillage in every direction.
2. Hanes Comfort Evolution Bra
A lot of bras use foam for lifting the breasts, but that can be uncomfortable and stiff. The Hanes Comfort Evolution Bra (S-3X Plus) was designed to stretch and move with your body in any direction while keeping your breasts out of trouble. The full-coverage bra is breathable and wire-free.
3. Glamorise MagicLift Minimizer Bra
Bell-shaped, east-west, and round breasts will all look amazing in a wire-free full coverage bra. The Glamorise MagicLift Minimizer is one example of a bra that is designed to keep boob bulge in. It does this with wireless seams, wide shoulder straps, and a criss-cross cinch design that brings the boobs together for added lift. You will find it in sizes 36C to 48H, and there are several colors to choose from.
4. Calvin Klein Womens Constant Convertible Demi Bra
Slender, teardrop, and athletic breast shapes shine in demi bras, also known as a half cup bra. These bras are designed to cover about a half of your breast, thereby pushing up the bottom so that it looks like you have fuller, rounder breasts. What's great about the Calvin Klein Demi Bra is the convertible straps that you can change to suit your needs. It's lightly padded and soft enough for daily wear.
5. Wingslove Women's Push Up Plunge Underwire Bra
If you have a breast shape and cup size that requires a little extra oomph, look no farther than a great plunge bra. Wingslove Push Up Plunge Bra is an excellent example of a bra with a deep V shape that holds in wide-set breasts or even conical ones while providing breathable support. The delicate fabric is also gentle on your skin.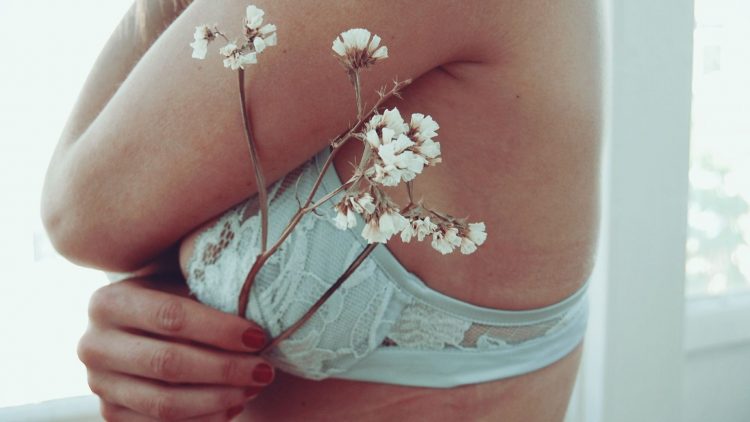 Final Thoughts
Hopefully, you now know how to stop the 'boobs falling out of bra' wardrobe malfunction. Bra spillage is often due to the bra itself being incorrectly sized to completely support or cover the breast. In order to prevent bra spillage from the top or sides of the bra, you need to make sure you're wearing the correct bra style and size. Fortunately, there are plenty of bras out there to choose from! Stop struggling with bra overflow today and go get a bra fitting done.
Your boobs will thank you!
Frequently Asked Questions
How do I know I'm wearing the wrong size bra?
You know you're wearing the wrong bra size when these things occur: the back of the band rides up towards your shoulder blades; your straps fall down; there are band or strap gaps in the back; the cups bulge out; your boobs fall out from the cups; the cups are baggy or saggy; there are gaps between the breast and cup; you have back bulge; and the straps leave indents and red marks on your shoulders.
How do I prevent bra spillage?
You can prevent your boobs from popping out for the side or front of your bra by wearing a properly fitted bra that enhances your natural breast shape.
Why are my boobs falling out of my bra?
Bra spillage happens because your bra is improperly sized. A poorly-fitting bra is not going to support the breasts correctly, and that can cause larger breasts to flow up and out of the bra rather than being held in place.
What happens when I wear the wrong bra size?
Wearing the wrong bra size causes more than back bulge and bra spillage. You could end up suffering day in and out because your breasts aren't supported. If you're consistently experiencing back and shoulder pain, poor posture, and have noticed that your breasts ache and are tender, you could be wearing the wrong bra size.