Hey Beautiful! This site is reader-supported and we earn commissions if you purchase products from retailers after clicking on a link from our site.
If you love fashion and you love shoes, you may already own every type of heel imaginable. But with so many types to choose from, there is a never ending range of heeled footwear you can go for. In this article we'll be looking at high heels vs pumps and explaining the differences between the two.
High Heels and Pumps
High heels have a history from all the way back to the 17th century and were brought to Europe by Persian emissaries of Abbas the Great. They were also first worn by men! High heels were a sign of wealth and would be worn to showcase financial extravagance.
When they first hit the shops, heels and pumps were only available in a black color and were made for office wear. Today, when you combine every type of heel and pump there are over 30 different styles, meaning all styles have been in and out of trends. We now have a varied amount of choices when picking the perfect heel.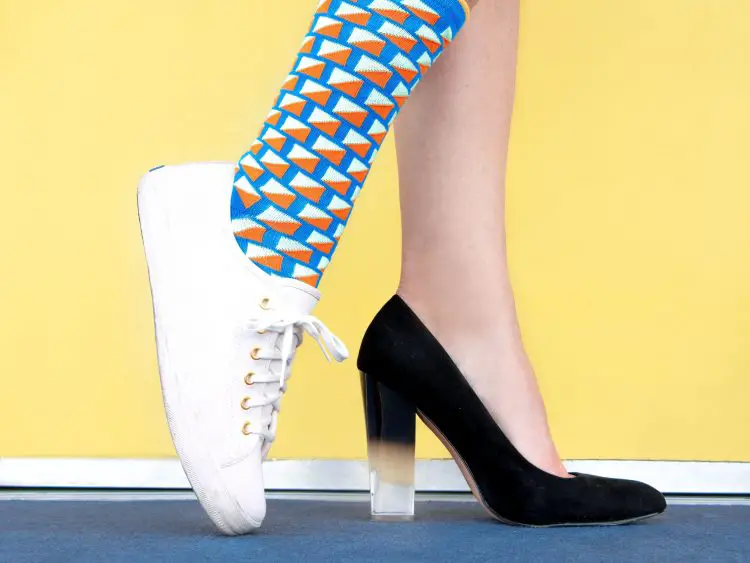 High Heels vs Pumps
The main difference between pumps and heels is the style and comfort. Though this is dependent on what heel we're comparing to. A low height type of heel, like a kitten heel, may match the comfort of a pump heel. This comfort is due to the pump heel being a studier and wider heel, meaning they are easier to wear for long periods of time. Pump heels are easy to slip on due to having no fasteners or straps.
Here are the pros of wearing pumps over heels:
Higher comfort levels: Wearing pump heels over high heels is more comfortable for your feet and posture when wearing them for long periods of time.
More varied events: Due to pump heels being more comfortable than high heels, they can be worn to more events. Especially to places of work or day trips.
Less health concerns: Due to the weight being distributed over a large heel, this creates less pressure on the foot and is likely to be safe for the health of your feet and overall posture better. As they have a wider heel, you are less likely to lose your balance and fall.
People still often prefer the high heel due to how many styles you can pick from and the height that they add. The angle of the high heel also adds elegance to your posture.
Here are the pros of wearing heels over pumps:
Better for special occasions: Heels can add elegance to any outfit and are great for special occasions, such as weddings and parties.
Added height: A common stiletto can add up to 5 inches onto your height, which is great for shorter women.
Varied styles: There are over 21 styles of high heels, meaning there's plenty to choose from. As there is more choice, you can be more creative with your outfits when opting for high heels.
Types of High Heels
As heels have become more and more popular and often an expected wardrobe staple to have, the range of high heels has expanded over the years. Celebration events are now no longer the only time high heels are worn. High heels are now part of a professionally-looking uniform for those in corporate roles. Heels have also merged with boots, meaning you can wear a heel no matter what time of year it is.
Here is a full list of the different types of high heels and a brief description on what make them different from the rest:
Slingback Heel: This heel is defined by it's ankle strap, which is cut out from the rest of the shoe and crosses around the back and sides of the ankle. Slingback heels can fit into both mid and high heel types.
Stilettos: The stiletto heel is a classic that most of you will have heard of. The stiletto features a very long heel compared to other heel types and is the most known heel in the higher heel category.
Peep-toe Stilettos: The peep-toe stiletto follows the same description of the common stiletto apart from its peep-toe feature. This is where the area at the front of the shoe is cut out, exposing just your toes.
Pump Heel: The pump heel can refer to any high heel shoe with a heel higher than 2 inches. The pump heel is often of a strong build and has a wider heel, making it a sturdy option to wear for lengthy periods of time.
High Block Heel: The high heel block shoe can define any length of heel, open cut or closed, that has a very chunky heel. The heel will most likely be over an inch in width. Commonly, a high clock heel will be a pump shoes with a chunky block shaped heel.
Lace-up High Heel: A lace up high heel is any shoe that fastens by a lace. A lace up high heel often has the height of a stiletto and is open cut, fastening with a long lace that can be twisted and wrapped around with a spaghetti-style strap.
Cut-out Heel: A cut-out heel is any heel that has either the top of the shoe or the sides of the shoe cut out, exposing the skin. It's common that a cut-out shoe only features a cut out top. But recently with new fashion trends, cut-out shoes can also be cut in the style of patterns on the side of the shoe, such as ovals or blocks.
Loafer Heel: A loafer heel is exactly what is described, a loafer with a heel. This heel is often in the low to mid height range and is in a block form, with at least 2 inches width. A loafer is a type of shoe that has a cut out top and can be easily slipped onto the foot, without any fastenings. Loafers are commonly made from leather or other strong materials and are known to be a sturdy shoe.
Cone Heel: The cone heel is named due to the front of the shoe. The sole of the shoe starts wide and narrow to the tip of the shoe, creating a cone shape. The cone heel often sits within the low to mid height range.
Flare-heeled Boot: This boot finishes at the ankle and covers the foot fully in either a leather or faux-leather material. The name comes from the heel which is blocked, with the width being larger at the bottom of the heel than the top, creating the 'flare'.
High-heeled Boot: The high heeled boot is any boot that finishes above the ankle. No matter what material it's made of, it features a heel. The high heeled boot often features a stiletto height and shaped heel and finishes either below or above the knee.
Heeled Ankle Boot: The ankle boot refers to a boot that finishes at the ankles, An ankle boot can feature a heel like a stiletto or a block heel.
Kitten Heel: A kitten heel is a short stiletto shoe that has a heel length of 1 inch. The kitten heel fits within the low heel category.
Spool Heel: A spool heel is a mid length heel type that is wide at the top and bottom but narrow in the middle. These heels can look similar to the cone heel.
Comma Heel: This is any heel, no matter what length that has a heel shaped like a comma. A comma heel is slated and can angle either inwards or outwards.
Oxford Heels: An Oxford heel is a mid height heel that fully covers the shoe and is fastened by a lace that are attached through eyelets, like a boot. The Oxford heel features a block heel.
Platform Heels: A platform heel is any shoe that has a thick sole that adds inches to the wearers height. Platform shoes can have up to a 4-inch sole and an 8-inch heel.
Peep-toe Wedge: A wedge heel is any height heel that has the area between the heel and shoe filled out, creating a wedge. A peep-toe wedge will feature a cut out section at the toes and can also feature a sling back fastening at the heel.
Continental Heels: A continental heel is a high, slim shoe that has a curved back line and curved inner line.
Mule Heel: A mule heel is a heeled shoe that has no fastening at the back and works as a slip on shoe.
High-heeled Gladiator: Gladiator shoes often look like open sandals that require straps to start at the sole of the shoe and cross over the foot to fasten. They can feature either a high heel or a low heel.

We have found a detailed video review of the different types of high heels by In a Timely Fashion . The review will show you visuals of each type of heel and the difference between them.
Types of Pump Shoes
Pump shoes can refer to many different styles of flat shoes and heeled shoes. A pump shoe is described as a court shoe and often features a cut out top and no fastening.
Here is a full list of the different types of pump shoes and a brief description on what make them different to the rest:
Classic pump heel: Classic pumps are cut open, revealing the top of foot and have a wider sole and heel.
D'Orsay pump: The D'Orsay pump follows the classic pump structure but with curved side pieces.
Mary Jane pump: The Mary Jane pump follows the classic pump structure but features a small strap to fasten the shoe at the ankle. This strap is commonly very thin and for decoration.
Peep-toe pump: The peep-toe pump is a classic pump with a cut out piece at the front of the heel that reveals the toes.
Pump flat shoe: A flat pump shoe is a shoe which is open cut and easy to slip on. It is often a medium width sole and no straps or fastenings.
High Heels + Pumps = What are Pump Heels?
What are the requirements to make a heel a pump?
A pump is a heel that has a low cut front, leaving the top of the foot often exposed. If the pump is short enough to be semi-comfortable and can be removed fairly easily then it can be referred to as a pump, rather than a high heel.
Classic pumps are made to be easy to slip on and off. This means they don't often have a strap, bow, buckle or lace to remove. Pumps have a wider base, meaning they have a steadier heel than a high heel, such as a stiletto. Pumps often have a heel height that is 2-4 inches and are typically easy to walk in.
We have found a great video review The Most Comfortable Heels, showcasing which pumps she announces to be the most comfortable, pain free pumps.
FAQs
What is Difference Between Heels and Pumps?
When we refer to pumps and heels today, we are mainly referring to the size of the heel.
If the shoe is flat or below 1 inch of heel we commonly would refer to it as pumps rather than heels. If the shoes have a heel over 1 inch then we would refer to them as heels. We commonly only refer to high heels when the shoe's heel is over a couple of inches high.
The design of the shoe also comes into play when choosing what to call them. Pumps commonly are closed toe whereas high heels can be open toe.
Are Heels Called Pumps?
Nowadays we don't refer to women's high heels as pumps. Today when we say the word pumps, it's often referring to shoes like sneakers or flats. We often refer to ballerina or slip on shoes as pumps.
Why are Women's Heels Called Pumps?
Calling women's high heel pumps is less of a common term today. But the word pump originates from the word pomp. Pomp is a word that stems back to the 1500s and is known to mean celebration.
What are the 3 Types of Heels?
The three different types of heels are all dependent on the heel height. The categorise into high, mid and low heels.
An example of a low heel type is the kitten heel. Kitten heels are currently in trend. They are popular among a lot of working women as they add elegance to an outfit but are still comfortable to wear for long periods of time.
Want to try out kitten heels? We recommend the DREAM PAIRS Low Heels.
An example of a mid heel type would be pumps! Pumps are heels that are commonly wider across the foot and heel. The height is often between 2-3 inches, making them slightly harder to wear than kitten heels but possibly have more of a stable, thicker heel.
If a pump shoe is more your thing, we recommend the Clarks Women's Pump.
The highest type of heel would be a heel like the stiletto. The stiletto has the highest heel but not the highest overall height which would be a platform heel. The stiletto heel has the largest angle. It is commonly worn for shorter events as they are more uncomfortable than low and mid height heels. Stilettos range from 5-8 inches heel height. These heels can add a significant height change to the wearer but comes at a cost of comfort.
If you are looking to try out the stiletto high heels then we would recommend the Cape Robbin Stiletto High Heels .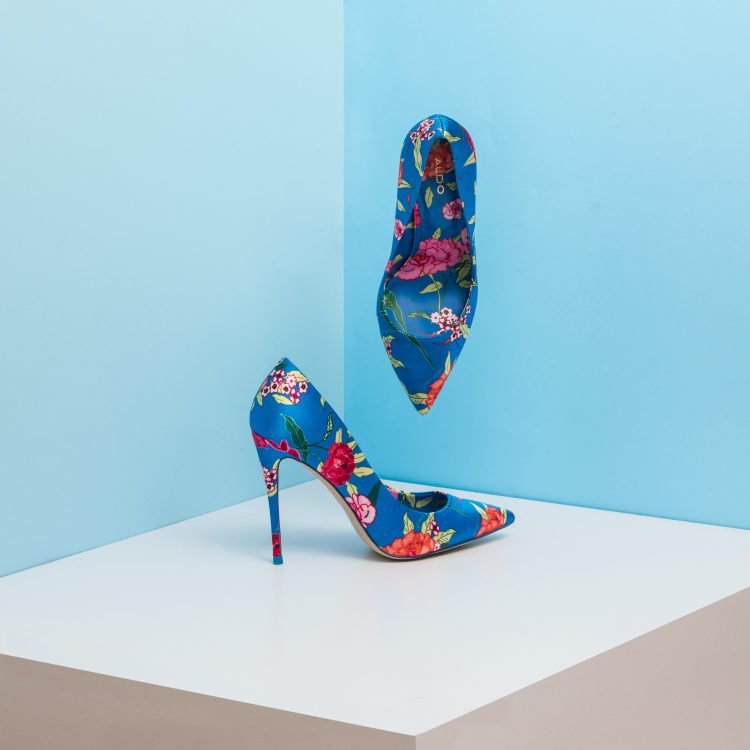 The Verdict – Heels or Pumps?
It's hard to pick a winner! High heels are fantastic for formal wear. There are so many options when picking which heel to wear. It's a sure bet that you won't be able to find a great heel to pair with your outfit. Pumps are practical and can also add the height benefits that heels can.
For more fashion tips, check out our blog!
Do you have a favorite? Which would you pick, pumps or heels?