Hey Beautiful! This site is reader-supported and we earn commissions if you purchase products from retailers after clicking on a link from our site.
Bras might look simple to the eye, but they're really technical feats of engineering that require a proper fit to work correctly. The thing about bras, though, is that the sizing is also complicated, because get this: the bra cup size doesn't translate to the volume of your boobs. Has anyone ever explained that? Probably not. So it's no surprise that 80 percent of women are using the wrong size bra.
If you ever wondered about bra cup sizes and the biggest bra size letter available, keep on reading. We've covered the details about the smallest to biggest cup sizes, as well as how to get the most accurate cup size for your breasts.
About Bra Cup Sizes
Commercial bra cup sizes generally range from AA—the smallest—to M, N, or O—the largest—depending on where you are in the world and which brands are available. The most common range is A to DD, though there are specialty retailers where you can get your breasts sized by a professional then guided to a more expansive range of sizes—up to HH. Go shopping online and you might find plus size bras all the way to O size.
Unfortunately, many women don't know these sizes are available, because their favorite mainstream department store doesn't carry such products. Considering that, for the longest time, you could really only find up to DD/E or F in major retailers, it makes sense that there's a misconception about bra cup sizing and how bras are supposed to fit.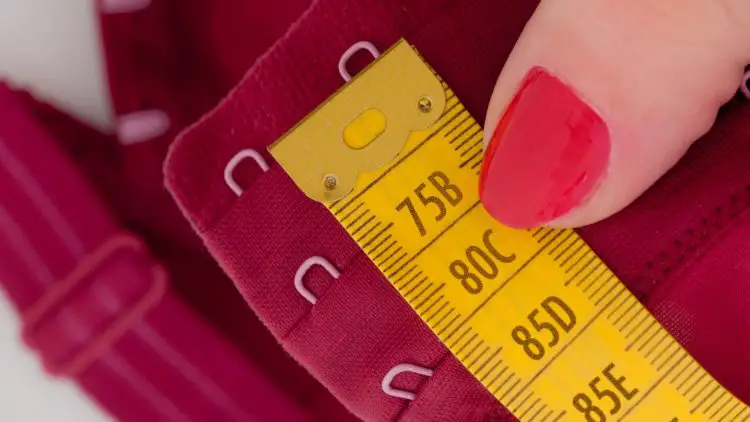 How to Find Your Bra Size
Now that you know a bit more about the range of cup sizes out there, learning how to size a bra comes next. You can get your bra size measurements easily. Grab a tape measure and get the circumference of your rib cage just under the bust then do the same thing but for the fullest part of your breasts.
When getting your band size, round down to the nearest even number if you end up with an odd measurement.
Under Bust (Inches)
24-26"
26-28"
28-30"
30-32"
32-34"
34-36"
Band Size
30
32
34
36
38
40
How to Find Your Bra Cup Size
From there, you can determine the cup size. Subtract the band size from the bust size. The difference between the two shows the cup size. For instance, if you have a 6-inch difference between bust and band, you wear a DDD cup. A 13-inch difference is an M cup.
Of course, it's never that easy. Any band size of 34 is considered a "true cup" size, meaning that is what you really are, regardless of what you calculate. However, if you end up with a 34B, for example, you can also try on a 36A, 32C, and 30D—also known as the sister sizes. How does that happen? The cup volume is the same.
Band Size vs Bust Size (Over Bust)


Band Size
Under Bust
A Cup
B Cup
C Cup
D Cup
E Cup
F Cup
28
23-24"
28-29"
29-30"
30-31"
31-32"




30
25-26"
30-31"
31-32"
32-33"
33-34"




32
27-28"
32-33"
33-34"
34-35"
35-36"
36-37"
37-38"
34
29-30"
34-35"
35-36"
36-37"
37-38"
38-39"
39-40"
36
31-32"
36-37"
37-38"
38-39"
39-40"
40-41"
41-42"
38
33-34"
38-39"
39-40"
40-41"
41-42"
42-43"
43-44"
40
35-36"
40-41"
41-42"
42-43"
43-44"
44-45"
45-46"
42
37-38"
42-43"
43-44"
44-45"
45-46"
46-47"
47-48"
44
39-40"
44-45"
45-46"
46-47"
47-48"
48-49"
49-50"
48
41-42"
46-47"
47-48"
48-49"
49-50"
50-51"
51-52"
50
43-44"
48-49"
49-50"
50-51"
51-52"
52-53"
53-54"
52
44-45"
50-51"
51-52"
52-53"
53-54"
54-55"
55-56"
Keep in mind that the numbers on the chart can differ depending on the bra design and manufacturer.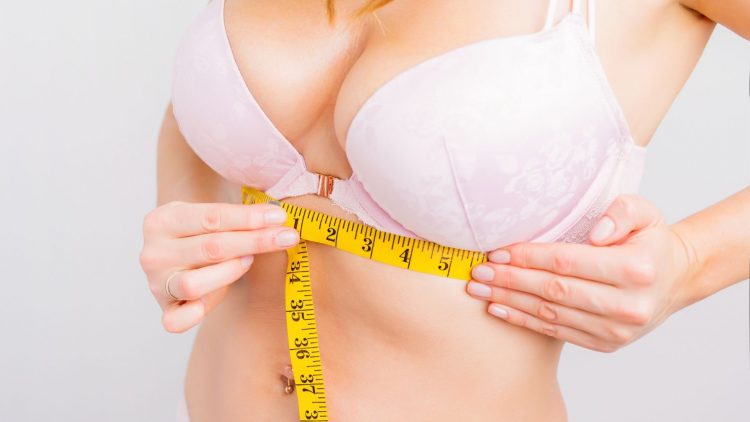 In-Depth Look at Bra Cup Sizes – Smallest to Biggest
In North America, bra cup sizes follow a system of A, B, C, D, DD, DDD, G, H, I, K, L, M, N, and O, with O being the largest.
A, AA, and AAA
Many people think that AA is the smallest bra size, but there is one that's smaller: AAA. Since AAA is uncommon, you won't see it in stores all that often, though specialty suppliers may carry it. The band and bust difference between A cups is slight, about 1 inch.
B Cup
When the measurement between your band and bust has a two inch difference, the B cup is for you. Keep in mind that there are no BB or BBB sizes, so if you find that you're in between the 2 inch difference either way, you may be able to go up to a C cup or down to an A cup.
C Cup
The bust-band difference for a C cup bra is around 3 inches. Again, C cups do not have double or triple letter sizes, so if you're around 2.9 inches or 3.3 inches, you can go bigger or smaller in cup size.
D, DD, and DDD
Did you know that the D cup is one of the most common sizes in the US, UK, and Europe? This means that you have a bust-band difference around 4 inches. Since D, DD, and DDD breasts can be heavy, women who wear this size often require more supportive bras.
E Cup
Beyond the standard A-DD sizing that most retailers are committed to, we have the E cup. This is defined by a 5 inch difference between the under-bust and over-bust measurements. Some retailers have E cups as the equivalent to DD cups, but that may not carry over to other manufacturers.
F and FF Cup
Readily available at specialized bra stores, the F and FF cup denotes a 6 inch difference. Closely related to FF is G, meaning you fall somewhere between 6 and 7 inches. Sizes tend to be skewed towards designer preference, so be sure to get fitted by a professional.
G Cup
At this point, you are going to need to go online or to the physical store of a specialized bra retailer. If you have a bust-band difference between 7 and 8 inches, then you are most likely a G cup. Be sure to look for bras that provide maximum support, since wearing the wrong sized bra could leave you with chronic back pain.
H Cup, HH and Beyond
H, HH, L, M, N, and O are less common than the A-DD range, but that doesn't mean they don't exist. H and HH cups mean you have an 8-9 inch difference, while N and O are for a 14-15 inch difference. With N and O being considered the largest sizes available in the US, you might have to do some searching to find a bra that fits. Don't be discouraged, however. Brands like Elila carry full-figure bras up to size O.
Do You Have The Right Bra Size?
Since we can't talk about bra sizes without making sure people are wearing the right one for them, let's briefly discuss what a properly fitting bra feels like. For a woman with larger breasts, trying on different bra styles and cup sizes is key to finding the one that supports you the best. This might mean going up or down a bra size—so knowing how far cup sizes go is also important.
Here's what the right bra fits like:
The underwire is comfortable under the breasts and doesn't dig into your ribs.
The cups cover and support the breasts without any overflow or gaping.
The band sits comfortably against your back with any hook, preferably the loosest hook. There should be no tension, no bowing, and no straining of the hooks. You should be able to get a finger underneath the band.
The straps don't dig into your shoulders or fall off.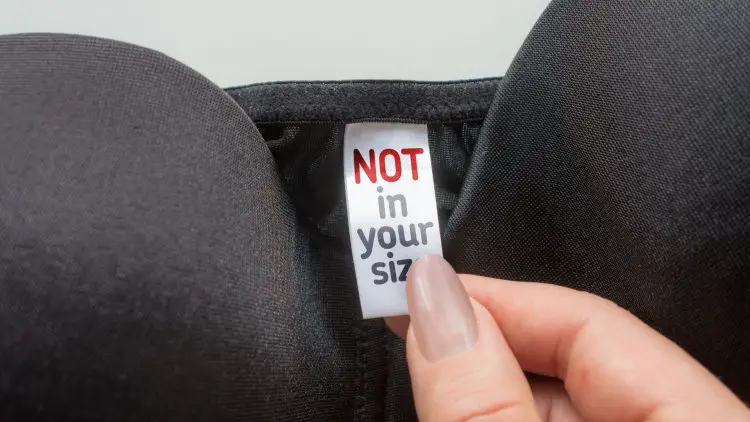 What About Women's Bralette Sizes?
Does the size of a bralette convert over to a regular bra cup size, you ask? A bralette is an unlined bra that doesn't have a clasp or underwire. It's an easygoing design that gives some support without being too restrictive. Plus, you can wear it kind of like a crop top in the summer or under a sheer top.
Here's how you can use your bra cup size to determine your bralette size:
| | | | | | | | | |
| --- | --- | --- | --- | --- | --- | --- | --- | --- |
| Cup/Size | 30 | 32 | 34 | 36 | 38 | 40 | 42 | 44 |
| A | XS | XS | S | M | L | XL | XXL | XXXL |
| B | XS | XS | S | M | L | XL | XXL | XXXL |
| C | XS | XS | S | M | L | XL | XXL | XXXL |
| D | XS | S | M | L | XL | XXL | XXXL | XXXL |
| DD | XS | S | M | L | XL | XXL | XXXL | XXXL |
| DDD | XS | S | M | L | XL | XXL | XXXL | XXXL |
| G | XS | S | M | L | XL | XXL | XXXL | XXXL |
| H | XS | S | M | L | XL | XXL | XXXL | XXXL |
Even if you don't plan on wearing a bralette any time soon, sometimes it helps to see how your cup size compares to t-shirt sizes!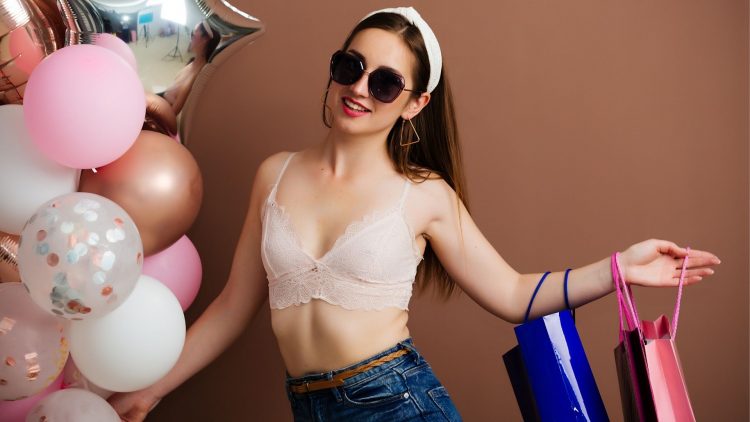 Converting Bra Cup Sizes
You probably have already realized that countries label their bra sizes differently. If you're planning on going abroad or need an emergency bra while on the road, knowing the conversions will be useful.
Here's an overview of country representation:
US: Canada and USA
EU: Most countries in Europe, Japan, China, and Korea
UK: England, Scotland, Ireland, Wales, and India
FR: France, Belgium, Portugal, and Spain
IT: Italy
AUS: Australia and New Zealand
Interestingly, cup sizes vary from not just manufacturer and manufacturer, but also by country. Larger cup sizes often see the most variation. The smallest bra cup size is always going to be AA or AAA. The largest cup is often M in the US and N or O in the UK. Some countries, like Poland, have bra cups that go all the way to R.
Here is a quick comparison of US, UK, and AUS cup sizes:
| | | | | | | | | | | | | | | |
| --- | --- | --- | --- | --- | --- | --- | --- | --- | --- | --- | --- | --- | --- | --- |
| Band-Bust Difference (Inches) | <1 | 1 | 2 | 3 | 4 | 5 | 6 | 7 | 8 | 9 | 10 | 11 | 12 | 13 |
| US Cup Size | | A | B | C | D | DD/E | DDD/F | DDDD/G | H | I | J | K | L | M |
| UK/AU Cup Size | | A | B | C | D | DD | E | F | FF | G | GG | H | HH | J |
And here is the band size equivalent between various countries:
| | | | | | | | | | | | | | | |
| --- | --- | --- | --- | --- | --- | --- | --- | --- | --- | --- | --- | --- | --- | --- |
| Underbust (cm) | 58-62 | 63-67 | 68-72 | 73-77 | 78-82 | 83-87 | 88-92 | 93-97 | 98-102 | 103-107 | 108-112 | 113-117 | 118-122 | 123-127 |
| EU | 60 | 65 | 70 | 75 | 80 | 85 | 90 | 95 | 100 | 105 | 110 | 115 | 120 | 125 |
| FR, BE, ES | 75 | 80 | 85 | 90 | 95 | 100 | 105 | 110 | 115 | 120 | 125 | 130 | 135 | 140 |
| IT | 0 | 1 | 2 | 3 | 4 | 5 | 6 | 7 | 8 | 9 | 10 | 11 | 12 | 13 |
| US, UK (in) | 28 | 30 | 32 | 34 | 36 | 38 | 40 | 42 | 44 | 46 | 48 | 50 | 52 | 54 |
| AU, NZ | 6 | 8 | 10 | 12 | 14 | 16 | 18 | 20 | 22 | 24 | 26 | 28 | 30 | 32 |
One thing that countries seem to have in common is using the chest circumference and a cup size to display the distance between the bust and the band.
So let's give an example of how these conversions work. Let's say you are a US or UK sized 34C. When shopping in the EU, you would be a 75D. In France, you're 90C, Italy 2C, and in AUS, it's 12C. As mentioned previously, the larger your breasts, the greater the variances in cup size.
Now, here are some things to keep in mind:
Sizing does not apply to every single brand around the world. Many international brands tend to use US/UK sizing, while brands from the EU or JP will use a different system of labeling. Also, many European brands will skip "I" because it can look like a 1 on the tag.
Most fuller sized bras will use UK sizing. The double letter system that you saw above (DD, GG, HH) works really well with larger cup sizes. So, if you have a cup size that's over DD, refer to UK bra sizing for the most reliable fit.
Keep in mind that some bra size calculators are inaccurate. This isn't just because of the mathematics, but because body types are different throughout the world. If you're a fuller figured person shopping for bras in Japan, the converted size the calculator gave you could be wrong. This is because the bras are built to fit more petite bodies. You might have to scale up two sizes.
Why Do Bra Sizes Differ From Store to Store?
Women around the world tend to struggle when shopping for a bra. This is because bras come in a wide variety of shapes, sizes, and price tags. And, as Lady Luck would have it, sizing can be drastically different between two products from the same manufacturer. This is why you might be a 32D in one store but a 36C in another.
If you're wondering why this happens and why some stores go to size G while others have up to size L or O, here's the reason: there are no industry-standard sizing specifications for bras. This means that every designer and manufacturer can size the bra according to their own ideals. Only a few bra stores, like UK-owned Bravissimo have designs that are tested then sized based on the results.
In other words, don't be upset if you see your cup size increase or decrease while trying one multiple bras in the fitting room. It doesn't mean anything beyond the way the product itself was sized.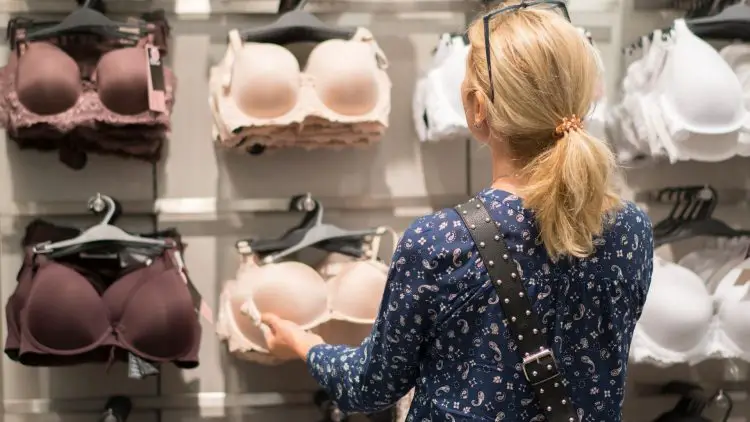 Final Thoughts
Hopefully, you now know that the smallest bra cup size available is the AAA and that the largest is either N or O. There is a wide variety of cup sizes out there for every style of bra, though you will find that the larger the difference between your over-bust and under-bust, the harder it will be to locate your size. When in doubt, visit a specialized store that carry the largest bra sizes around. You'll be able to find something!
Frequently Asked Questions about Bra Cup Sizes
What is the largest bra size?
Technically, there is no limit to how big a bra size could be. There are over 250 bra sizes to choose from. Presently, the largest bra size ever recorded is 102ZZZ, belonging to Annie Hawkins-Turner (Norma Stitz), a woman from Atlanta, Georgia. She holds the Guinness World Record for the largest natural breasts. As you might have guessed, Hawkins-Turner has her bras specially made, as no store would carry her size.

And if we're talking about the average largest bra size available in stores, that is usually a 40DDD at Victoria Secret in the United States. The UK store Rigby and Peller released a 48N bra in April 2011, which is larger than both a US 46H and an EU 105I, though 58O is available at some online bra stores.
What is bigger than a DD?
The next cup size following a DD (which is E in EU/UK sizing) is the DDD/E/F size. After that cup size is G, H, and in some cases I, K, L, M, N, then O.
What's the biggest cup size for bras?
The biggest cup size available for bras depends on where you are located. Currently in the US, the biggest cup size regularly available is O, which indicates a 15-inch difference between your bust and the band of the bra.
What is the letter in bra size?
The letter you see after the number indicates the cup size of the bra. Cup sizes can range through AA to N in most countries, including the US, and it refers to how many inches larger the bust is to the size of the band. The cup size doesn't have anything to do with the volume of the breasts; it's measuring proportion. This is why a 36C has larger cups than a 34C.