Hey Beautiful! This site is reader-supported and we earn commissions if you purchase products from retailers after clicking on a link from our site.
When hunting for moisturizing products to make our skin glow, we all look for power ingredients. If you've been looking for the best natural face moisturizer, we may have the answer! Shea butter and coconut oil are not only packed with health benefits, but also beauty benefits, with an array of vitamins that both skin and hair love. 
Both shea butter and coconut oil are emollients, meaning they have powerful moisturizing properties. These properties help to achieve that "glow from within" look. Free of artificial fragrances, parabens and petroleum, shea butter and coconut oil can be a great natural alternative. But you may be wondering which is better, shea butter or coconut oil?
Today in this article, let's talk about and explore shea butter and coconut oil benefits, as well as who will win in the fight of shea butter vs coconut oil!
Shea Butter vs Coconut Oil
The key difference between shea butter and coconut oil is that shea butter is suitable for all skin types, whereas coconut oil can be problematic for acne-prone skin and can trigger breakouts. 
Both of these oils are of a soft consistency, yet coconut oil is much thinner than shea butter. This means that coconut oil will melt quickly on the skin. Coconut oil is a great ingredient for products designed to glide on smoothly, like lip balms. With shea butter being a thicker consistency, it provides a thick layer of moisture which is great for dry skin. 
Check out this video to see shea butter and coconut oil in action:
Which is better shea butter or coconut oil?
Both are great for different reasons. 
Shea butter has a deeper moisturizing effect on the skin due to its heaviness and rich fats. Being anti-inflammatory, it can calm irritated and sore skin while locking in moisture for hours. In spite of all its benefits, you may be put off by its sticky texture and how it clumps when applying to the skin. 
Coconut oil has a lightweight feel but can lock in moisture. Its antibacterial and antifungal properties are great for healing irritated skin. You may not want to opt for coconut oil if you have acne prone skin due to its greasiness and ability to block pores.
Shea Butter vs Coconut Oil for Skin
Shea butter is a beneficial ingredient to soften, tone and heal skin. With its mix of fatty acids and vitamins A and E, shea butter is full of antioxidants and is also anti-inflammatory. 
Coconut oil can heal the skin and protect against skin abrasions and chafing. Among its benefits are helping the skin from aging, minimizing pores and fighting against skin infections. This is due to coconut oil containing caprylic acid, which is a fatty acid that is antibacterial, anti-fungal and inflammatory.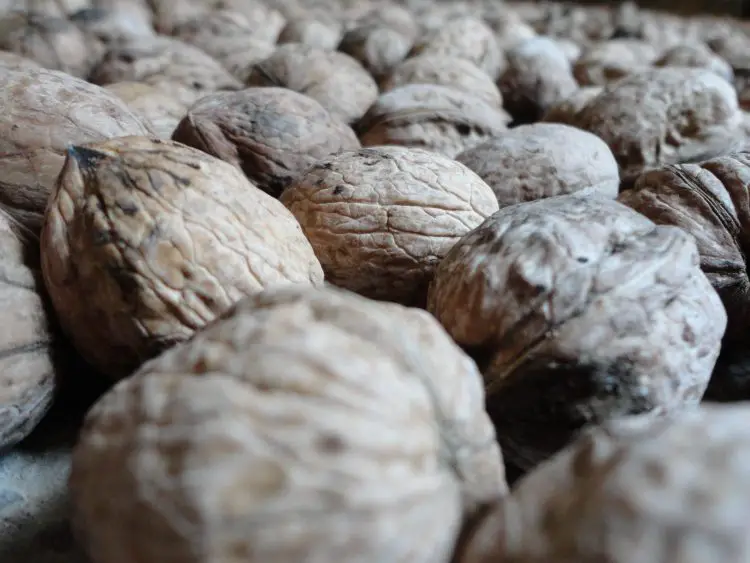 Is shea butter or coconut oil better for your skin?
With all the amazing benefits both shea butter and coconut oil share, Is shea butter or coconut oil better for your skin?
Shea butter is the better all rounder, especially for those suffering with combination and acne-prone skin due to coconut oil having a comedogenic rating of 4. You may be asking does shea butter clog your pores?. The answer is no, it's safe to use for all skin types and can have huge benefits when using on the face.
Yet coconut oil does hold its own ground, especially with its healing properties. Those who have sensitive, irritated skin that isn't acne-prone may benefit from use. Try using coconut oil sparingly as a makeup remover or night mask; you can even mix it with brown sugar and make a homemade sugar face scrub!
Shea butter may be the better all rounder, but like coconut oil it works more effectively at night. Due to the amount of oils in shea butter, if you are wearing it during the day in front of the sun you may quickly burn. It may be best to soak up the benefits of shea butter at night then just cleanse your face in the morning.
Shea Butter vs Coconut Oil for Eczema
Both work great but coconut oil may win this one!
Virgin coconut oil has been seen to be the most effective with its inflammatory properties, which calm symptoms like redness and itchiness.
Looking for virgin coconut oil for eczema? Try Spring Valley Extra Virgin Coconut Oil. This virgin coconut oil is cold-pressed to retain beneficial nutrients, including more than 40% lauric acid, which is known to fight bacteria.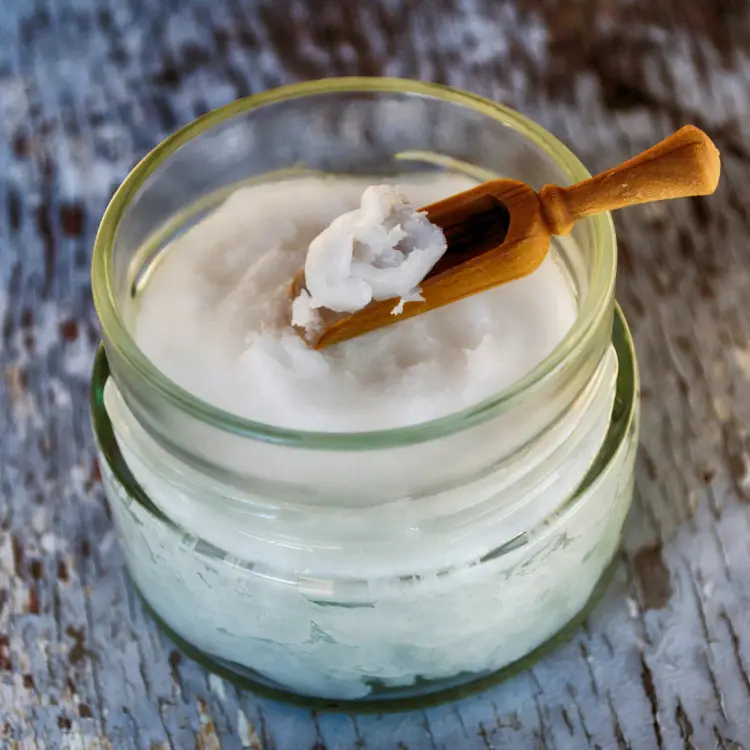 Shea Butter vs Coconut Oil for Stretch Marks
Can shea butter and coconut oil remove stretch marks? Yes!
Shea butter can help prevent stretch marks as it naturally plumps the skin and is often used as a key ingredient in moisturizers for the body. Shea butter can also fade scars ranging from acne to eczema. It also helps with sunburn, cracked skin and peeling skin. Coconut oil is anti-inflammatory meaning it can help reduce the heal time for existing stretch marks.
if you'd like to try coconut oil, virgin coconut oil is your best bet. Viva Naturals Organic Coconut Oil Is highly recommended as it is unrefined and organic.
Looking for shea butter for stretch marks? Naissance Organic Refined African Raw White Shea Butter is one of our favorites: This shea butter is unrefined, hand kneaded and vegan.
Shea Butter vs Coconut Oil for Rosacea
Shea butter works well to soften the skin and protects against moisture loss, which can reduce symptoms of rosacea like redness on the cheeks.
Coconut oil has been studied as a treatment for swelling, which can be effective for rosacea symptoms on the nose, cheeks or under eyes.
Shea Butter vs Coconut Oil for Hair
Both shea butter and coconut oil are commonly used for hair care to boost moisture and repair hair strength.
Coconut oil is the best when taming damaged hair and controlling frizz. Shea butter is best when treating dandruff as it best treats dry and irritated scalps. Both oils can be used in hair masks and are commonly found in shampoos and conditioners.
Here are some of our recommendations for shampoos and conditioners that contain these two ingredients:
Shea Moisture 100 Percent Virgin Coconut Oil Daily Hydration Shampoo : This Shea Moisture coconut oil shampoo is sulfate-free and contains 100% virgin coconut and shea oils.
Maui Moisture Heal & Hydrate + Shea Butter Shampoo : This Maui Moisture shea butter shampoo is sulfate free, vegan and contains aloe vera.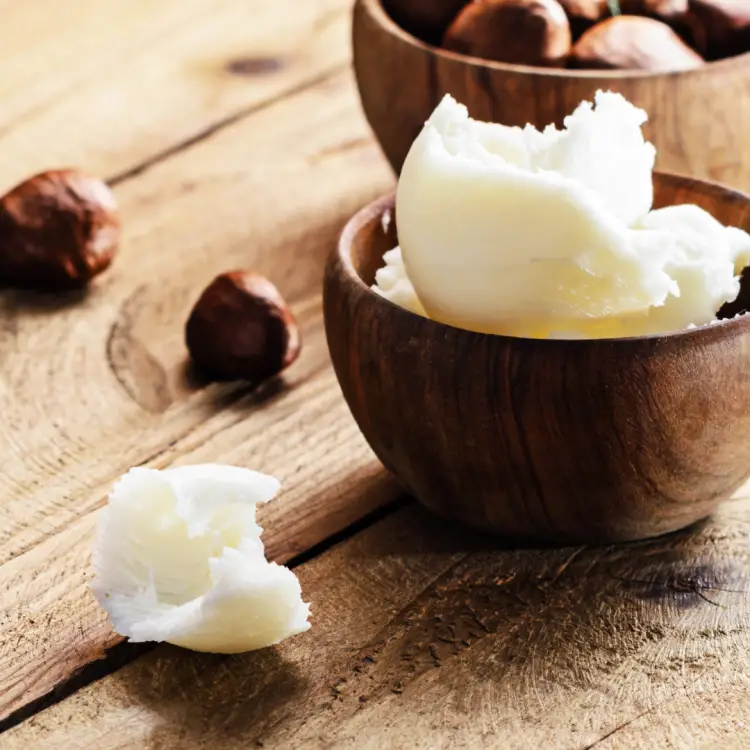 Is it good to mix coconut oil with shea butter?
Yes, combining these two ingredients can double the benefits! People wil oily skin or acne-prone skin can't use coconut oil, so it's better to not mix and stick to shea butter alone.
How to Mix Shea Butter and Coconut Oil
Here is a body butter recipe that combines shea butter and coconut oil for stretch marks and dry skin.
You will need:
We found this great recipe from Hawaii Mami that works wonders.
According to Hawaii Mami's recipe it's best to combine all the ingreidnts and use a whisp to mx the oils into a smooth paste. Once the micture becomes soft and airy the body butter is ready to use!
FAQS
Is shea butter coconut?
Is shea butter and coconut the same? The answer is no.
You might be wondering where powerful ingredients such as shea butter and coconut oil come from.
While coconut and shea may both come from "nuts", shea butter is a fat made from the seed of the shea tree, while coconut oil is made by pressing fresh or dried coconut meat.
Which is better, shea butter vs cocoa butter?
Shea butter vs cocoa butter? Is cocoa better than coconut oil?
Cocoa butter is full of great ingredients like saturated fats, oleic acid and palmitic acid, just like shea butter. But cocoa butter can clog your pores, therefore shea butter is the safer option. 
Can you replace coconut oil with shea butter?
As shea butter and coconut oil share many of the same properties, shea butter is a great replacement when using as a moisturizer.
Why you should stop using shea butter and coconut oil?
There are some cons to using both shea butter and cocout oil for hair care. Due to the heaviness of the oils, using them too frequently can cause hair build up. The oils are not water soluble therefore they can be tough to remove.
Shea Butter vs Coconut Oil – The Answer
There are great benefits to using both oils as part of your regime! For skincare, shea butter is a great all rounder with little cons. For hair styling and body care, coconut oil makes for a great body moisturiser or lip balm.
What about you, which do you think is the winner between shea butter and coconut oil? Which do you prefer or which one has worked better for you?