Hey Beautiful! This site is reader-supported and we earn commissions if you purchase products from retailers after clicking on a link from our site.
It's time to roll out your yoga mat and discover the combination of physical and mental exercises that for thousands of years have hooked yoga practitioners around the world. The beauty of yoga is that everyone can reap the benefits. Whether you are young or old, overweight or fit, doing it for years or you're just beginning, yoga has the power to calm the mind and strengthen the body. So one might wonder how long should a yoga session be to enjoy the benefits of this practice?
Well, as we often say in yoga, always see what resonates with you. The yoga session can last from as short as 20 minutes to as long as 2 hours and maybe more depending on multiple factors. Some of these are class level, type of class, preferences of the teacher, needs of the students and sought-after objectives. 
Let's talk more about this today.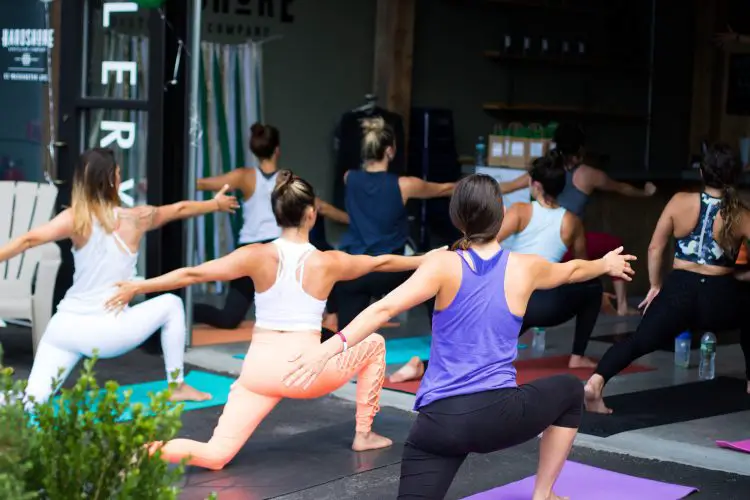 Typical Yoga Session Duration
When it comes to the length of a regular yoga session, there is no one-size-fits-all approach.
Yoga classes can vary in length depending on the type of yoga and the preferences of the teacher.
However, in general, yoga classes should last about an hour and a half. Beginner and intermediate sessions are usually 60 minutes long. Longer classes and certain styles might take up to 90 minutes. This is a common length for advanced students or workshops. A 120-minute class is typically used for retreats or yoga teacher training.
While a class schedule may give you a better idea of how long you'll be in the studio, how long you'll be on the mat isn't always obvious.
Duration of Different Styles of Yoga Classes
Hatha Yoga
Hatha yoga is a type of yoga that involves physical practices to maintain and channel life energy. While doing Hatha yoga you move your body slowly and deliberately into different positions that challenge your strength and flexibility while focusing on relaxation and mindfulness. Hatha yoga classes are usually 60 minutes long, but depending on the teacher, they might be shorter or longer.
Yin Yoga
Yin Yoga is a slow-paced form of yoga for exercise that incorporates traditional Chinese medicine and uses asanas (postures) that are held for longer periods of time than other styles. Advanced practitioners may hold one asana for up to five minutes. Because of this yin yoga classes can last up to 75 minutes. 
Vinyasa Yoga
Vinyasa yoga focuses on connecting your breath to your movements, which are typically faster. You can expect to be in a constant flow of movements throughout a vinyasa practice. A Vinyasa yoga session has a flow to it. However, the specific poses and pace of the flow differ from one instructor to the next. The duration of a Vinyasa class varies, but it is usually between 60 and 75 minutes.
Ashtanga Yoga
Ashtanga is a very dynamic and athletic form of yoga that is divided into six series or levels, each having a specific sequence of poses. It's based on flowing movements between postures, and emphasizes energy and breath. It is a physically demanding activity that also develops mental clarity and inner calm. Ashtanga yoga classes are typically 1 hour long but can be shorter or longer depending on the practitioner's ability to perform the asanas from the series. Usually, beginner practitioners need more time to finish the series than advanced students. 
Iyengar Yoga
Iyengar Yoga is a type of yoga that focuses on the structural alignment of the physical body through asana practice. Precision, sequencing, and the use of props set it apart from other yoga styles. Iyengar yoga classes usually last 90 minutes. 
Restorative Yoga
Restorative Yoga is the practice of holding asanas for longer periods of time than in traditional yoga. Frequently, this is done with the help of props like folded blankets, to relax the body, alleviate stress, and prepare for pranayama. It's a yoga technique that focuses on physical, mental, and emotional relaxation. Restorative yoga focuses on extended holds and deep breathing. It is suitable for people of all levels. Restorative yoga lessons take 60 minutes on average, but they can be shorter or longer depending on the yoga instructor or your personal preferences if you practice at home.
Power Yoga
Power yoga is a high-intensity workout that focuses on increasing body strength and flexibility via high-impact yoga poses. Although the definition of power yoga varies based on where you practice, most power yoga sessions share some key characteristics: A blend of Vinyasa-style poses with Ashtanga sequences for building strength. It can last normally from 60 to 90 minutes, but you can certainly start for less.
Benefits of Long Yoga Classes
Attending long yoga classes has plenty of benefits. Longer classes have many advantages:
More time to explore yoga poses and discover their benefits
More time to get to know your teacher, which will help you understand the instructions better
The yoga sequences can gradually grow in intensity (particularly helpful for beginners)
A chance to develop your yoga practice, relax into the poses, and reap the full benefits of yoga for your body and mind
More time to relax and revitalize during Savasana
Benefits of Short Yoga Classes
Opting for shorter sessions has a lot of advantages also. Shorter classes are a good option if you're:
Short on time
Looking for more intensity in less time
Attending more than one or two classes per week
Looking for more diversity in your practice to keep it fresh and exciting. 
In Yoga Consistency Is Crucial
Your yoga practice is entirely personal. If you commit to a regular yoga practice, whether it's for 20 or 120 minutes, you'll get the health benefits. Find that you are unable to attend a longer class? Try a shorter one. If you don't have much time, practice a few simple postures at home.
Because yoga is a lifetime commitment, the most crucial thing is to determine what works best for you and stick with it.
Inspire yourself with some happy yoga quotes!
FAQs
Do You Need Rest Days From Yoga?
There is no need to have a rest day from yoga. There is no need to take a yoga day off. You can devote a yoga day to different areas of your body while the rest of your body recovers, allowing you to practice yoga every day. A 15-minute yoga session is also an option. You can do yoga before bed or right after waking up before work so you're all stretched out and ready to face the day.
Is Yoga Twice a Day Too Much?
You might ask yourself – how much yoga is too much? And the answer is – there is no such thing as too much yoga. There are no limitations on how often you can practice. If you need to stretch up your body, you can practice yoga every day or even twice a day.