Hey Beautiful! This site is reader-supported and we earn commissions if you purchase products from retailers after clicking on a link from our site.
If you're looking for the best ointment for your skin, you may be having a difficult time deciding between Aquaphor and CeraVe.  If so, you're certainly not alone.  Aquaphor and CeraVe look and feel very similar, which can make it complicated to decide which is right for you.  However, there are a few key differences between the two ointments that may help you determine the best pick for your needs.  Let's take a look at Aquaphor vs CeraVe similarities and differences in the next few sections.
Aquaphor
Aquaphor is an occlusive that works by forming a barrier over the skin to lock in moisture.  It is fragrance-free and dermatologist tested, making it a good choice for those with sensitive skin.  Some of the key ingredients include petrolatum, panthenol, lanolin alcohol, bisabolol, and glycerin.  It is important to note that some individuals are sensitive or allergic to lanolin and should not use Aquaphor.
If you've ever used Vaseline, you may find that Aquaphor has a lot in common with it.  However, Vaseline is 100% petrolatum, while some of the other ingredients added to Aquaphor, specifically the glycerin and lanolin, help it to deliver more moisture to the skin.
Aquaphor is considered non-comedogenic, which means it won't clog pores.  Because of this, it can be used by individuals with all skin types, including those with oily or acne-prone skin.
CeraVe
Like Aquaphor, CeraVe is an occlusive that works to strengthen the skin's barrier and keep moisture locked in, leaving users with smooth and hydrated skin.  CeraVe is also a top-recommended product from dermatologists and doesn't contain any fragrances.
One of the key differences between CeraVe and Aquaphor lies in the ingredients.  CeraVe is formulated with three essential ceramides that work to help improve the skin's natural barrier to increase the overall health of skin.  Hyaluronic acid, panthenol, petroleum, mineral oil, and dimethicone are some of the other key ingredients found in CeraVe.  Hyaluronic acid and panthenol work to keep the skin well-hydrated, while mineral oil and dimethicone work to help the skin hold on to the hydration.
One benefit of using CeraVe is that it doesn't have a greasy feel.  Many occlusives feel overly greasy, which isn't the best fit for many individuals.
What is the difference between Aquaphor and CeraVe?
After reading those descriptions above, you may still think that Aquaphor and CeraVe sound pretty similar.  And, they are.  However, there are a few key differences that we'd like to highlight to help you choose the right ointment to match your needs.
The main differences between Aquaphor and CeraVe center around their ingredients, texture, cost, and product range.  Continue reading to learn more about each of these differences.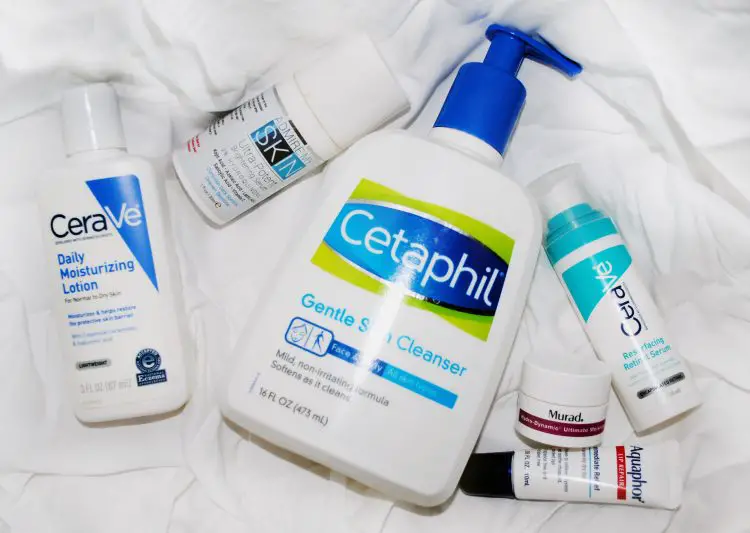 Ingredients
We touched on the difference in the ingredients list for Aquaphor and CeraVe above, but here is the ingredient list for each product.
Aquaphor Advanced Therapy Healing Ointment
CeraVe Healing Ointment
As you can see, there is some overlap between the ingredients, but there are definitely some differences as well.  These differences will impact the texture of Aquaphor vs CeraVe, which we'll look at next.
Texture
Aquaphor has a thicker texture than CeraVe.  However, we definitely wouldn't classify CeraVe as having a thin, lotion-like texture, either.  Aquaphor also feels a bit greasier than CeraVe and can be a bit more difficult to spread over your skin.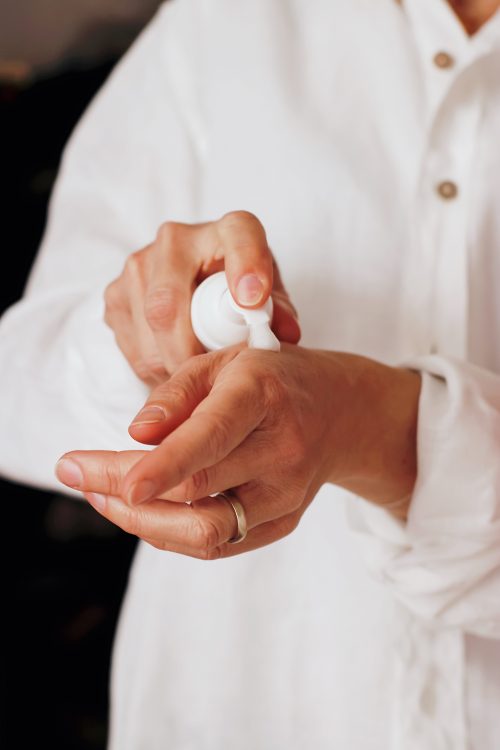 Product Range
While most of this post focuses on comparing Aquaphor's and CeraVe's healing ointments, those aren't the only products offered by each company.  Aquaphor's products are mostly aimed at soothing the skin and delivering moisture, while CeraVe offers a wider selection of skincare products.  Generally speaking, Aquaphor's products tend to lend themselves towards first aid more so than skincare.
With CeraVe, you can purchase cleansers, serums, sunscreens, and more to help with nearly every part of your skincare routine.
Below, you'll find a list of some of the products available from Aquaphor and CeraVe.  When you look through this list, you should notice what we just shared:  CeraVe's products cover a wider range of uses, while Aquaphor's tend to focus more on skin hydration and protection.
Cost
If price is a big factor for you, Aquaphor may be the better choice.  The exact prices can vary depending on the retailer you purchase from and the size of the tub or tube, but Aquaphor is almost always going to be less expensive.
Aquaphor vs CeraVe for Dry Skin
Which is better for dry skin Aquaphor or CeraVe?  When deciding between Aquaphor or CeraVe for dry sking, there are a few things you should know. Aquaphor and CeraVe both hold a lot of promise for helping individuals with dry skin.  For many, you may just need to try both products to determine which offers the ideal fit based on your skin and its needs.
While CeraVe is a water-based product and not as strong of an occlusive as Aquaphor, the ingredient list does include niacinamide and essential ceramides that can work to reduce inflammation and help restore the skin's natural barrier.  Aquaphor, on the other hand, is a thicker occlusive.  While it has a greasier formula, the thicker consistency can be better at really trapping in moisture and helping skin stay hydrated.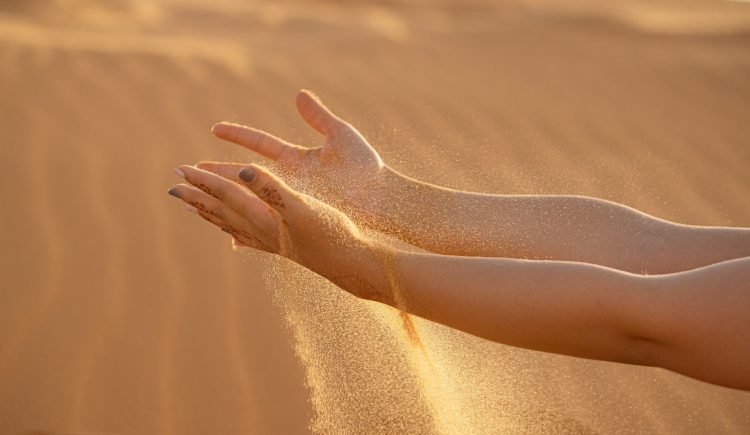 Aquaphor vs CeraVe for Eczema
If you are dealing with eczema or trying to decide between Aquaphor vs CeraVe for baby eczema, either product can be a good option.  The ingredient list of both occlusives can help to decrease irritation and reduce dry, cracking, or flaking skin.  
If we had to choose one product to recommend for eczema, it would probably be Aquaphor.  The panthenol and bisabolol in Aquaphor may give it a bit of an edge related to soothing skin irritated by eczema.
Aquaphor vs CeraVe for Face
CeraVe Cream vs Aquaphor for face: which is better? If you're interested in slugging and want to find an ointment that can help lock in other moisturizers on your face, both Aquaphor and CeraVe can be good choices.  They are both safe to use on the face, and can help leave you with silky smooth skin the next morning.  Remember, when slugging, apply Aquaphor or CeraVe last right before heading to bed.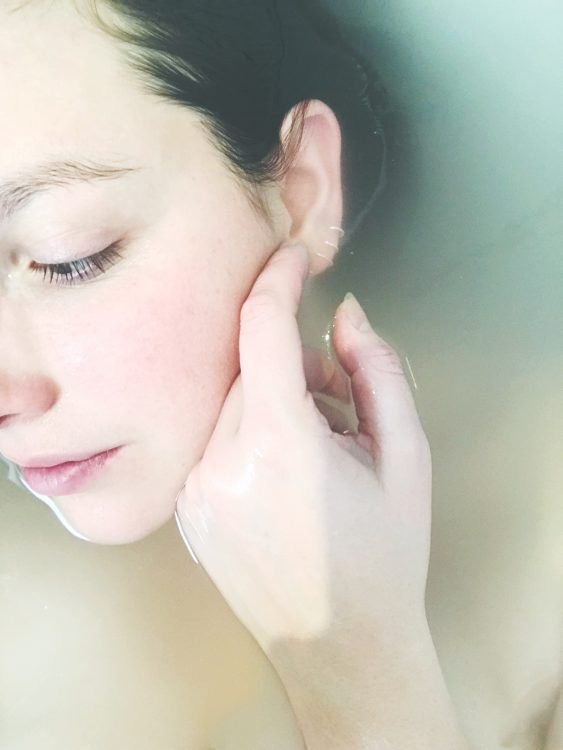 Aquaphor vs CeraVe for Acne
What about CeraVe vs Aquaphor acne benefits?  CeraVe and Aquaphor are both non-comedogenic, meaning they won't clog your pores.  Most individuals with acne-prone skin should be able to use either occlusive without fear of suffering an acne breakout.
CeraVe does include a special ingredient, phytosphingosine, that isn't found in Aquaphor.  This lipid, which occurs naturally in the skin, may help kill the bacteria that cause acne.  So, if you're looking for the best product to add to your routine for your acne-prone skin, this may be a reason to give CeraVe a try.
Aquaphor vs CeraVe for Tattoo
Again, Aquaphor and CeraVe can both be viable options when you're looking to help keep your tattoo from getting irritated or overly dry.  Our top pick for tattoos would be CeraVe.  With the hyaluronic acid in the ingredient list, it may help your tattoo heal a bit more quickly than Aquaphor.
Top Aquaphor Products
Interested in trying Aquaphor?  You can't go wrong with the Healing Ointment, but there are a variety of other products to try, including a number for babies. 
Here are some of our favorites:
Top CeraVe Products
CeraVe also offers an impressive healing ointment.  And, as we shared above, they also offer an extensive skincare line with various lotions, serums, eye creams and more. 
Here are our favorite CeraVe products: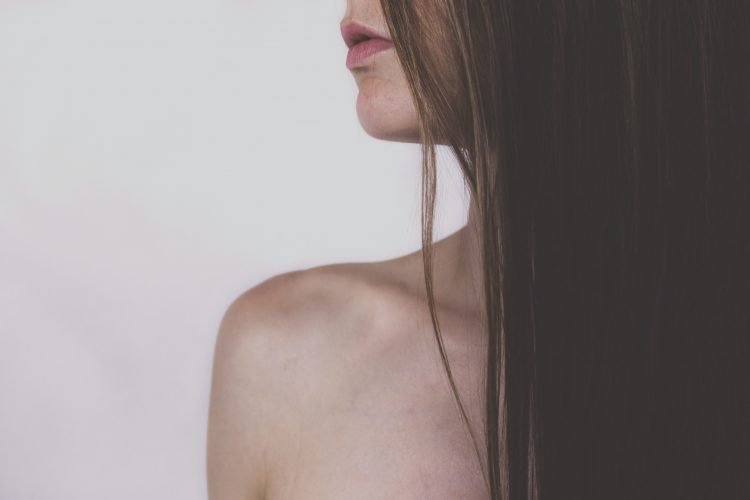 Aquaphor vs CeraVe: Which is Right for You?
So, what do you think?  Aquaphor vs CeraVe?  Which skincare ointment do you think will deliver everything you are looking for?  Add it to your cart today so you'll be able to try it out soon!
Learn more about taking care of your skin with these related posts on our blog: