Hey Beautiful! This site is reader-supported and we earn commissions if you purchase products from retailers after clicking on a link from our site.
We all want our skin to display radiance and flawlessness. You can achieve those skin goals with proper care and the right products. We don't mean skin products that cost hundreds of dollars either. You can reap benefits with just coconut oil. That's right! There are many benefits of applying coconut oil on face overnight and to your skin in general. We researched how beneficial coconut oil is to the skin and what exactly it can do for you.
Benefits of Applying Coconut Oil On Face Overnight
Is coconut oil good for your face at night?
The short answer, yes! Coconut oil can help moisturize, heal, and soothe your skin overnight. Many people prefer to use it at night over the daytime because they replace their typical face moisturizer with it.
Benefits of Using Coconut Oil on Your Face Everyday
Coconut oil has distinct benefits for the skin. Each one can target problem areas or aid in the prevention of skin issues and conditions.
One benefit to using coconut oil on your face comes from acne healing and prevention. Many sufferers of acne use coconut oil to help reduce acne and the scarring it can cause. Some replace their nightly cream with coconut oil because they find it works better than the commercial products. It's thought that the reduction of acne comes from the antibacterial and anti-inflammatory properties it has.
Coconut oil helps soothe redness and irritation in the skin because of the lauric acid.
Coconut oil can help with your fine lines and wrinkles too. It doesn't just work to help smooth the skin but to stop wrinkle production. Lauric acid affects your collagen production. It increases and maintains it. This stops wrinkles and fine lines from appearing and improves skin elasticity.
Your skin benefits don't stop there! Coconut oil makes a great moisturizer. Studies have found the certain kinds of coconut oil significantly reduce levels of transepidermal water loss. This causes an increase in skin lipid levels leaving you with soft and supple skin.
Your skin's brightness may benefit from coconut oil too. We know that coconut reduces redness, but did you know that it may lighten skin darkness like uneven pigmentation and dark circles.
Coconut oil has even more benefits when consumed and used on other parts of the body but more on that below.
Coconut Oil on Face at Night
Now, after you heard the face benefits of using coconut oil you might wonder, "Can I leave coconut oil on my face at night?" You might also wonder, "Can you sleep with coconut oil on your face?"
The answer to both of those questions is yes!
Coconut oil has skin-nourishing fatty acids like lauric acid and linoleic acid to hydrate and protects the skin.
Coconut oil is perfectly safe to use on your face and sleep with it on. We do recommend that you let it absorb fully into your skin first or use satin pillowcases if you don't have time to wait. It can pick up on every piece of fuzz that's on your bed!
It should be noted that some skin types shouldn't sleep with it on their face daily but more on that later.
Applying Coconut Oil On Face at Night
We know that coconut application has benefits, especially when left on overnight. However, did you know that you can get even more benefits depending on how you apply it? Coconut oil works best when massaged into the skin instead of just slathered on.
First, you want to take a teaspoon of the hardened oil and let it warm up and liquify
Then, you want to rub it on your hands. Take your hands and gently make small circles throughout the face and the neck (other parts of the body too)
Once you've massaged it all over, you can choose to simply wait for it to absorb or rinse it away
To rinse, use warm water and splash your face
Then, pat your face until dry
Massages help reduce stress. Yes, even mini face massages can help with stress reduction. Mainly, we massage coconut oil to absorb faster into the skin. The quicker we can get the benefits, the better.
Is It Good to Use Coconut Oil on Face?
You might wonder, "what will coconut oil do for my face?" This will depend on your skin type and the type you use.
However, the guarantees you can expect are anti-inflammatory properties, anti-bacterial properties, moisturizing effects, and an increase in collagen production.
The advantages of coconut oil on skin far outweigh the potential chance for negative side effects.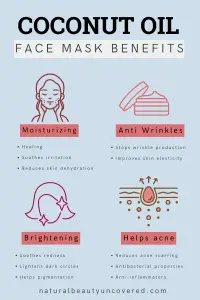 Coconut Oil Skin Care Benefits
Coconut benefits the skin in many ways.
It can help treat skin conditions and problems like eczema and acne. It affects your skin both internally and externally. This only intensifies if you consume coconut oil as well as application to the skin.
You can apply coconut oil for face wrinkles. It will help reduce any fine lines you have around your mouth, forehead, and eyes. Make sure you don't get any into your eyes! It can cause eye irritation and blurriness. The application of coconut oil for skin whitening doesn't work as you may think. If you are trying to achieve the same effects that skin whitening creams have, you'll have some disappointment. Does coconut oil remove dark spots then? It works best on dark circles and patches of skin that may have uneven pigmentation like a scar or skin issue. This is perfect for us ladies that lack sleep consistently! It won't completely get rid of them, at least not with a single-use. Just like with any skin regime, you need to have consistency.
Is coconut oil a good moisturizer? It works great! It can even replace your current face cream. Unlike most face creams that contain chemicals, coconut oil has natural properties like lauric acid that works to retain moisture.
Can You Use Coconut Oil on your Face Everyday
You may experience more benefits if you use coconut oil on your face daily. Some people start to notice their fine lines and wrinkles start to smooth out. Others notice their dark spots and circles appear lighter. Many immediately notice that their skin has a suppler feel and look to it. This happens because of the lauric acid. It keeps moisture locked into the skin. Users may also notice improvements in their acne or skin conditions.
Can You Use Coconut Oil on Oily Skin?
As we mentioned earlier, unfortunately not everyone can use coconut oil every night.
Coconut oil is comedogenic. Comedogenic means that it can cause clogged pores. Now, some people with oily skin have no issues with using coconut oil on their face for basic things like spot treatments, face masks, or as a makeup remover. Others suffer from more acne and irritation.
RELATED: Best Oily Skin Foundations from MAC
Many people like to use coconut oil overnight daily to help with acne, dryness, and to make skin appear brighter. Some find it too heavy on the skin to sleep in. They will instead create a face mask or just use it on the problem spots.
If you have oily skin and want to use coconut oil as an acne treatment, you may want to use caution. Coconut oil may contribute to more acne, blackheads, or whiteheads if you sleep with it overnight.
RELATED: Best Natural Foundation for Oily Skin
What Coconut Oil is Good for Face
There are different types of coconut oil. Each one may have a different effect on your skin. You will see oil labeled as unrefined, cold-pressed, expeller-pressed, virgin, and extra virgin. How do you tell which one is the best?
Generally, you want an unrefined, extra virgin, or virgin coconut oil. Why? Unrefined, extra virgin, and virgin coconut oil contains all the nutrients like phytonutrients and polyphenols. You also want your oil manufactured as cold-pressed. Cold-pressed means that it wasn't processed with heat. Heat removes many of the nutrients found in coconut oil. It's incredibly important you use organic, unrefined or virgin, cold-pressed coconut oil if you plan to use it on your skin.
Now, you may see the price tag of this oil and say, "Never mind, I'll settle for the expeller-pressed, refined oil."
While you certainly can make that choice, your skin may suffer as a result. Studies have found that cold-pressed oil contains more nutrients. Refined and expeller-pressed coconut oil often contains chemicals that may irritate or cause skin problems.
How Do You Use Coconut Oil on Your Face?
Spot Treatment
You don't have to use coconut oil all over your face or skin if you don't want to. If you have any rough, dry patches coconut oil can help. You can use it on acne, uneven pigmentation areas, or scars.
Face Mask
Some people find coconut oil too heavy to wear all night. If that's the case, you can use it as part of your daily routine but only for a few minutes.
Instead of using a sheet mask, mix some coconut oil and your favorite essential oil. Massage into your face and relax for 15 minutes or however long you wear a sheet mask. Remove with warm water and pat dry your face.
Moisturizer
Coconut oil works great to keep the moisture locked into your skin. The lauric acid and lipid levels give your skin that supple appearance and feel.
Take some only into your hands and massage it into your face and neck. You can sleep with it on once it dries or choose to rinse and pat dry if you're short on time.
Makeup Remover
Since it is an oil, coconut oil easily removes all makeup, even your eyelashes! The oil removes dirt, glue, and powder with ease.
Just like you moisturize, massage it into your skin. Make sure you avoid getting the oil in your eyes.
Face Wash
You can make your own face wash with coconut oil. Rub and massage the oil gently into your skin (you can also mix it with essential oil). Rinse your face and follow up with a gentle face wash too. Why? You don't have to if you don't want to. Some people prefer the extra cleanse to ensure everything is washed away and because they don't like the heaviness of the oil.
Eye Cream
Eye creams on the market run expensive with no guarantees they work and have tons of chemicals. Just dab a light amount of coconut oil under the eyes with your ring finger before bed or your makeup application. It also works if you suffer from dry under eyes.
RELATED: Good Eye Cream for 20s
Exfoliator
Coconut oil makes a great exfoliator when combined with essential oil, honey, and sugar. You can apply this to any part of your body including your lips. You don't have to worry if you consume it because it's made with all-natural ingredients. Apply the mix, then wash it off with a damp cloth to have softer skin.
Natural Beauty Hero: Coconut Oil
You can leave coconut oil on your face overnight, rinse it off after massage, or use it as a face mask treatment. It will entirely depend on how you want to use it. It also depends on if your skin can tolerate the oil for extended periods of time. Some have no issues sleeping with coconut oil overnight, while others can only tolerate it as a makeup remover.
You should use coconut oil overnight if you have dry skin or combination skin. Those that should caution their nightly use include people with oily skin. People that have taken antibiotics for a long time or have a weak immune system shouldn't use coconut oil on their face. Why? Your skin has extra oil production that can cause the coconut oil to clog pores. This may contribute to fungal, bacterial infections, or more breakouts. People with tree nut allergies might be able to use coconut oil. Some people have no issues, but others experience allergic reactions.
Many people look to coconut oil as a magic cure-all. It does do wonders for your skin and body. It has many benefits that most skincare creams lack. The best is it's all-natural. There are no chemicals in unrefined virgin coconut oil. You can virtually use it on any part of the body and for many skin conditions. While it sounds like the perfect treatment, it does have some flaws when it comes to oily skin suffers. Take caution when using coconut oil if you're allergic to tree nuts or have oily skin.
Now that you've learned about the benefits of applying coconut oil on face overnight, if you're interested in more natural beauty, check out our blog: